Post by Mad Scientist on Oct 2, 2017 7:27:03 GMT
Maybe jumping the gun in relation to a terror attack, but am I, is terror only busied by extremists from religions? Nah... In any case what ever the outcome, terror it is.
Las Vegas Shooting Near Mandalay Bay Casinoends People Fleeing
A gunman opened fire Sunday night at a concert outside a Las Vegas casino hotel, sending people fleeing as SWAT units searched for the attacker and the police investigated reports of shootings elsewhere in the city.
Reports said that the shooting happened near the Mandalay Bay Resort and Casino. It was not immediately known how many people were injured. Video posted online showed a musician performing outside the hotel at Route 91 Harvest, a country music festival, when the sound of automatic gunfire rang out. The music stopped, and concertgoers ducked for cover. "Get down," one shouted. "Stay down," screamed another.
Several SWAT teams were sent to the hotel, and officers reported being pinned down by gunfire, according to emergency radio traffic. Shortly before midnight the Las Vegas Police Metropolitan Police Department reported that "one suspect is down," but they gave no details.
The police also descended on the Ali Baba Restaurant, about a 10-minute drive from the Mandalay Bay, and they were also investigating reports of a shooting at the New York-New York Hotel and Casino.
The police reported clearing out the Mandalay Bay's 29th floor and working their way up to the 32nd floor. A police Twitter post described reports of an "active shooter" near or around the Mandalay Bay casino.
One officer reported that civilians were "trying to take patrol cars," but it was unclear why.
The police reported closing off about a mile of Las Vegas Boulevard and asked the public to steer clear of the area.
Police radio reports suggested that at least three people were transported to Sunrise Hospital and Medical Center for treatment. The police were told not to bring additional casualties — unless the injuries were life-threatening — to University Medical Center, another nearby hospital, because it was at capacity.
A photo posted by a Las Vegas Review-Journal photographer showed emergency responders carrying off one injured person in a wheelbarrow.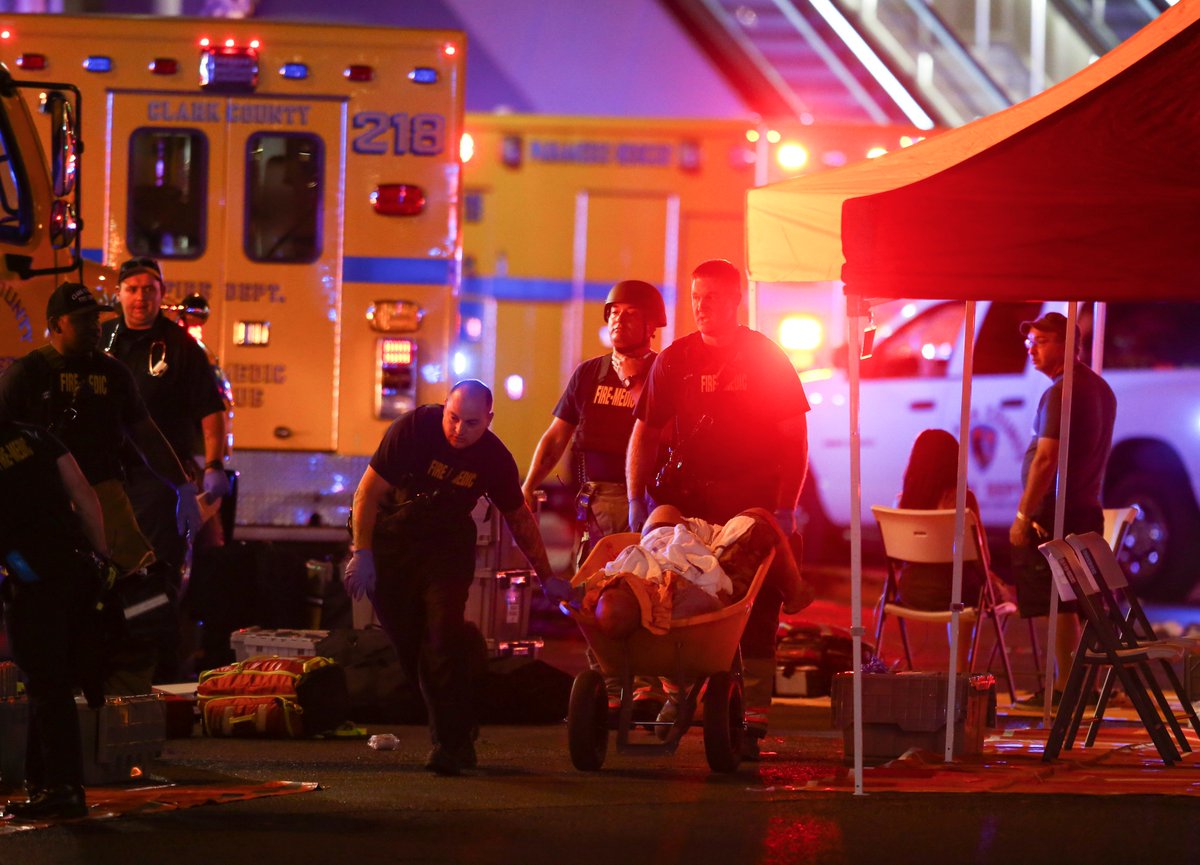 McCarran Airport in Las Vegas said that some flights destined for the airport were diverted because of police activity. The airport is just east of the Mandalay hotel, and after the shooting there were reports of people fleeing the concert by running onto an airport runway.
Source.