Post by Mad Scientist on Jun 30, 2017 7:23:27 GMT
Dear Cave Dweller,
I would like the opportunity to welcome you to this Forum.
If you are a lurker and are unable to create an account, please remember that all Prob Boards accounts are the same, you might already have a Pro Board account on that email address you're trying to use.
This is also known as a "Conspiracy" Forum, we'd like "Creative Thinkers" as a choice of words instead, for that is just what this is.
Here you can create Threads about your theories, experiences and many other things you wish to engage in.
However, personal, commercial etc links in your signature please. Links in posts,which are considered Spam, will be removed by Staff. If one feels persistence precedes logic in this matter, we will kindly ask you to leave.
Everything you post here from 3rd parties should be accompanied by a source link.
Serious Participants might be offered their own section on the Forum, making sure your research is consolidated. Not only for your own advantage but also for that of those members interested.
If you like something added, please make sure we notice and reply to you.
There's Shoutbox on the Bottom of the page (all). This is like a crude chat system.
Every Member will have up to 25 personal Smileys to add to their Profile. You can edit your personal smileys in your profile, under the 'Settings' tab.
support.proboards.com/thread/452580/personal-smilies
Members will also be able to create their own Gallery where You can post images and comments.
Moderators have the ability to remove images or edit/remove comments if that need arises.
If you'd like others to comment on the gallery images, you will need a key. Instructions in link.
support.proboards.com/post/5043344/thread
There's a couple of features added to the experience of the posting quality. One can like a post or use a LoL smiley when it's funny (or not).
Member Lock Feature, Members can lock their own thread, Mods and Admin reserve the right to unlock any thread you have closed though.
Multi Quoting:
While holding down the Alt key you can click on the content area of a post to select it. Clicking on multiple posts like this and then clicking a Quote button will let you multi-quote. The quoted messages will all show up in the message area.
The Round Table Section is
invitation only
! This place will serve both as a meeting ground between Staff and Senior Members (Council) if the need arises and as a sanctuary for the Elderly, lol.
When you like it enough here to invite your "Friends", you can do this from your own profile page. Click on the Friends tab, it'll take you to this screen, one can notice the invite button on the right, click on it.

A form will appear for you to fill out.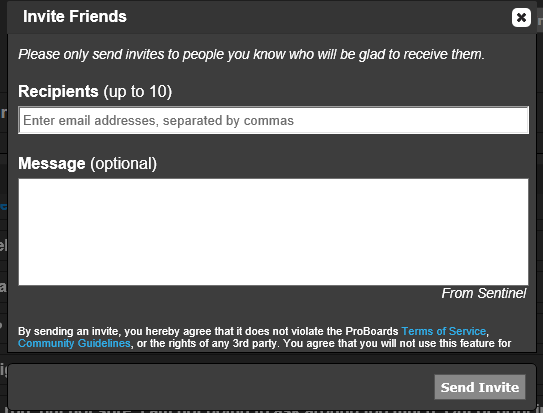 Unless you're an Affiliate, no personal links to websites etc, well the normal forum rules. We'll remove anything commercial anyway.
People who misbehave will be banned.
Enjoy Your time here.
The Mad Scientist.